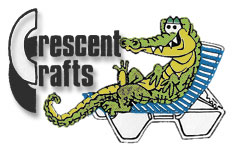 We offer the best outdoor furniture and refinishing services available at the most competitive prices possible. Our components are first rate, from the high-test aluminum or strong, sparkling frames to the durable colorful, virgin vinyl straps, specially made with chemical inhibitors to resist mildew and deteriorating effects of sunlight.
Click on a picture to enlarge
Stackable Chaise Lounge #820

Features offset rail and extra bracing in seat area.

Stackable Clubchair #800-B

Our original Braced Design

Stackable sand chair #802-A and 18" fiberglass side table #818-F with acrylic and metal tops available.

Bar stool #870. Bar height tables available in fiberglass, acrylic or metal tops

Stackable Lounge #I-149 and Stackable chair #I-50

42" aluminum painted umbrella table #R42-punch. Available in various colors.

Stackable Classic sling lounge #C150SL and Classic sling chair #C50SL

Available metal table top patterns.

7.5 ft. fiberglass rib umbrella with 80 lb. concrete umbrella weight

42" fiberglass top table #R42-F. Available with or without hole.

Crescent Craft's own Easy Reader #820-H (© 1996)

Perfect for lying back to read in any position.

Flat Arm Sled Base Stack Chair #801 and 42" dia. Acrylic Table #842-A.

Set is umbrella compatible. Fiberglass Table Top available.

Stackable Lounge with Arms #I-151

Stackable Chair #800-B and 42" dia. Fiberglass Dining table #842-F.

Acrylic Table Top is available. Please note our orginal bracing design construction.